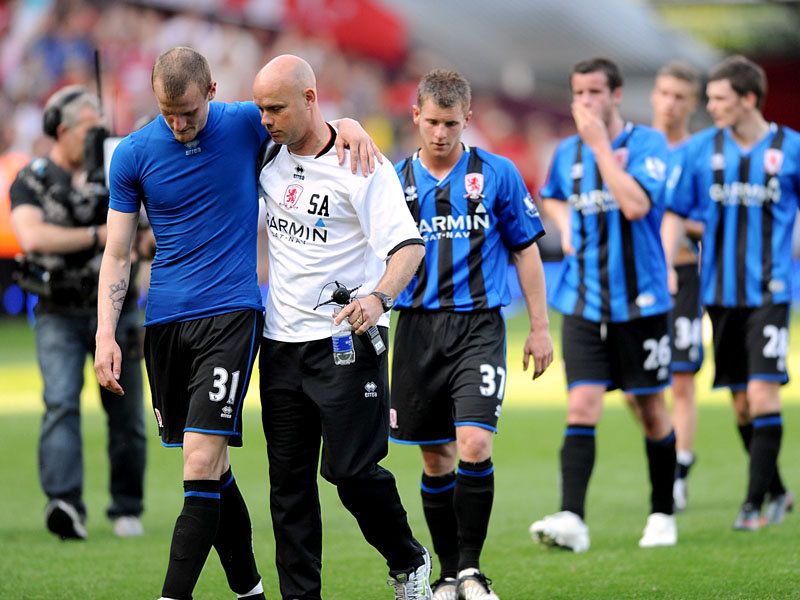 A desperate end to a desperate season. A relegation that has been on the cards for months was only confirmed on the final day of the season.
Boro
, ravaged by injuries, needed a minor miracle to stay up. With Hull and Newcastle obliging with defeats, it was inevitable that it was our own part of the equation that went awry.
Boro
went not with a bang, but with a whimper.
If few expected
Boro
to claw their way to safety, we had at least hoped for a fight. Sadly, Upton Park saw yet another timid display almost entirely bereft of aggression and purpose. Having knocked the ball around comfortably without ever giving Robert Green a hint of concern, it was yet another soft goal that saw
Boro
fall behind. The defence imploded allowing Carlton Cole to convert a cross from an unmarked position.
There was a flurry of resistance at the start of the second half. Parity was briefly restored after
Tuncay
fed Gary O'Neil. O'Neil drove across goal and into the bottom corner of Green's net. The scores only stayed level for seven minutes with West Ham back in front after a horrific error by Brad Jones. Junior Stanislas' optimistic shot was at least heading for the corner but lacked any other virtues. The ball somehow dribbled through Jones' inadequate dive and plopped pathetically over the line.
Once West Ham's lead had been restored, it was only a matter of time. By 6 o'clock,
Boro
were a Championship club for the first time since 1998. Only 35 points were needed to stay up. Its telling of the quality of the Premier League this season that after a pathetic season, yielding only 32 points (
seven fewer than the tally that took us down in 1997
),
Boro
still had at least half a chance of survival until half an hour from the end of the season.
A long and difficult summer awaits as the vultures circle. There doesn't seem to be much chance of a new manager coming in to change the mood so it will almost certainly be up to Gareth
Southgate
to clean up his own mess. Steve Gibson could face some difficult questions when he faces the fans tomorrow night on local radio.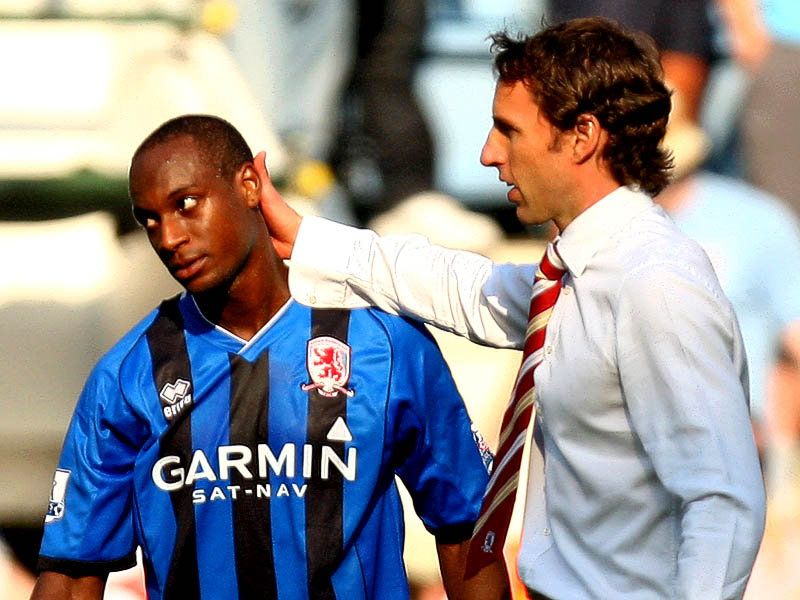 For his own part, Gareth
Southgate
seems slightly dismissive of his critics. "I have to accept a large percentage of our supporters want a change of manager,"
said

Southgate

after the match
. "The chairman will decide what happens ultimately. The newer supporters have not experienced this and they're the ones haranguing me and wanting change, but the majority of our fans will be aware that this club has been through a lot, lot worse than this."
Southgate
would be foolish to continue to use past crises as an excuse for this season's ineptitude. A difficult history should make our club and our fans more able to take this relegation with more of a sense of context than
our friends up the road
at least. However, there is no escaping that
Southgate
and his team could and should have done much better this season. Its insulting to suggest that the only ones criticising the manager have simply been spoiled by eleven years of top flight football.
The "£83m" debt that has been
Southgate's
preferred fig leaf in recent weeks is believed to have been
vastly reduced in practice
. There has to be an end to a culture of excuses. The players and the manager haven't been good enough this season. Its important that
Southgate
accepts and understands the mistakes that have been made if he is to take the club forward.
There can be no doubt that massive changes are necessary. To reverse footballing cliche, we can't change the manager so we'll have to change the players.
Southgate
at least
seems to have accepted this
. There are some players who will almost certainly go -
Tuncay
being the foremost. Stewart Downing would have been considered the same before his foot injury but may well now be forced into staying until January at least. The likes of Jeremie
Aliadiere
, Gary O'Neil, Robert
Huth
,
Didier
Digard
,
Mido
and Julio
Arca
are more than likely to go. Ross
Turnbull
and Matthew Bates seem unlikely to extend their contracts while Adam Johnson has only a year to go and seems reluctant to sign an extension.
Most of those, to be brutally honest, would not be greatly missed. A new
Boro
must be forged now - the attempt to be a Happy Shopper version of Arsenal has failed. The manager can afford to be a tad more pragmatic with his choice of player without turning
Boro
into another Bolton or Stoke. Build a defence around David
Wheater
and Chris
Riggott
. Start again with the midfield and attack.
Southgate
has built one team that has failed. He now has the good fortune of being allowed to build another one. We can but hope he gets it right this time.