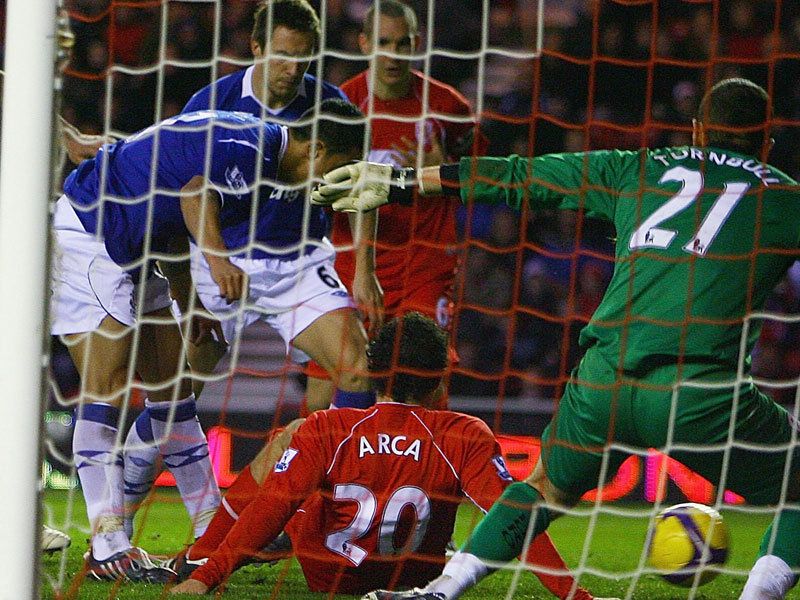 Boro slumped to within one place of the relegation zone after a depressingly predictable Boxing Day defeat to Everton. 2008 began with a soul-crushing loss to the Toffees and, 12 months on, nothing much seems to have changed.
With an ominous trip to Old Trafford to come on Monday, all it would take is positive results for Blackburn and/or Stoke to see Boro end the year in the bottom three. It was less than two months ago when Boro won at high flying Villa to close in on the European places. After a run of seven winless games, our best hopes of continental action next season is a trip to Swansea or Cardiff.
The one-goal margin of victory flattered the home side. A team with the strikers or sense of style that Everton singularly lack would surely have run up a cricket score. The prospect of Manchester United against this team is truly terrifying.
Despite his repeated post-match insistence that 'lessons will be learned', Gareth Southgate continues to make the same mistakes. It has been some time since Andrew Taylor convinced at left-back. Once again, his lack of strength and positional sense were exposed.
The centre of midfield is a complete disaster without Didier Digard. Julio Arca's move to the centre has long since gone sour. His ponderous display was perhaps the worst of any home player yesterday (no mean feat), leading to several chances for the visitors. Gary O'Neil is a willing but limited partner.
Perhaps the biggest indictment of the manager's plans is the feckless attack. Stewart Downing looked a pale shadow of last season's top scorer, his performance making a mockery of a mooted £15m price tag. Tuncay may have been poor yesterday, but the withdrawal of the team's only maverick attacking talent ten minutes into the second half was mystifying.
Hopefully, Downing and Tuncay will stay long enough for Boro to benefit when their form does return. Adam Johnson is some way off being ready for a regular starting position. His attempt to win a penalty was shameful and rightly punished by the erratic Mike Riley, one of the few decisions he got right.
Mido charged around conceding free kicks, doing everything but his job as a target man. Afonso Alves made one good chance for himself but fell over. While Southgate does have some basis to refer to financial restraints making his job harder, it should not be forgotten that these two were both signed by him for a combined total of around £20m. Their contribution offers scant evidence that the manager should be trusted with any more money.
The price for injecting new blood into this side seems to be the unpalatable loss of one of the side's few assets. Its vital that if Southgate does remain as manager (and its highly unlikely there will be any change before the season ends), that he retains his conviction that he is the man for the job. The grim truth is that it is the current staff who will be responsible for ensuring the club's survival as a Premier League outfit.
Southgate was a player of such class that his attributes often hid the deficiencies of others. Unfortunately for him, he's now unable to rely on his players to prop up a ropey managerial record. The question anyone connected with the club must now be asking is how much worse things have to get before it gets better.
Man of the Match
Ross Turnbull - retaining his form as all around him lose theirs. He'll need to be on top form at Old Trafford to keep things respectable.