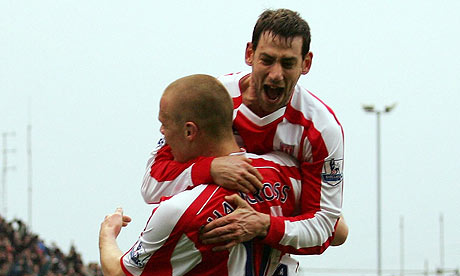 Boro
are now four points from safety at the bottom of the Premier League after a heartbreaking 1-0 defeat to Stoke City yesterday. Ryan
Shawcross
glanced Rory
Delap's
long throw past Brad Jones to give the Potters victory with six minutes to go. With just nine games to save Premier League status, three against members of the current top five, the situation is becoming desperate.
Yesterday's game was typical of so many this season, particularly away from home. There were glimpses of passing and movement that showed promise but we failed to capitalise when we were on top.
Boro
haven't scored an away goal since
Tuncay's
tap in at the KC Stadium on 6 December. Then, when under pressure, defending our area in the dying
moments
, we cracked.
Shawcross
' header was the 12
th
goal
Boro
have shipped in the last ten minutes of league games this season. Those goals have cost 12 points - the difference between battling for survival and aiming for Europe.
The most damning reflection of Gareth
Southgate's
management is that the same mistakes are being made time after time. Despite getting the team to pass the ball nicely at times, a tally of 21 goals in 30 games is asking for trouble. The repeated defensive lapses late in games and against set pieces do not suggest the manager or his coaching team are able to exert any significant influence over performance.
The future looks bleak.
Fulham
may have succeeded in what
seemed a hopeless cause
last season but there's little evidence that
Boro
are capable of the same. The team simply doesn't score enough goals and seems to lack the inclination or personnel to take a more
attritional
approach to collecting points.
There is no guarantee that replacing the manager would have improved performance or the chances of staying up. However, its becoming harder to argue that making a change could make things any worse.
Boro
have scored fewer goals than any other team in England or Scotland, won once in eighteen league games and lost eight successive games on the road. Those statistics cannot be argued with.
Its hard to blame those who are now turning on Gareth
Southgate
and even Steve Gibson. It doesn't feel like the club has done all it can to succeed in a relegation scrap
that has
been on the cards for months. The failure to bolster midfield looked a bad move even before Lee
Cattermole
ended
Didier
Digard's
season. Even if those talking of the 'death' of the club are being ludicrously melodramatic, the gaggle of Premier League alumni at the bottom of the Championship hints at difficult times to come.
That said,
Southgate
deserves much better than some of the stick being dealt out by keyboard warriors. The man lifted our first trophy, was a hero in Cardiff and Rome. A man with no previous connection with the area who has represented the club since 2001 with great dignity and genuine commitment. We should never forget that. His competence as a top flight manager has to be questioned - the dire position we're in and the run
that has
got us there demand it. His attributes as a man cannot.