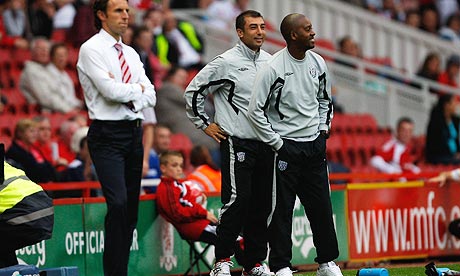 On Saturday, there was a noisy Gay Pride march through Middlesbrough. Always keen to keep in touch with the local community, Boro tapped into the mood by bending over to receive the mother of all shaftings from West Bromwich Albion. All the promise of successive wins over Ipswich and Sheffield Wednesday evaporated as Boro were simply eviscerated by Roberto Di Matteo's men. The 5-0 scoreline, if anything, flattered the home side.

After a bright start, Boro began to labour. Rhys Williams and Julio Arca struggled to keep tabs on Youssuf Mulumbu and Graham Dorrans in the Baggies midfield. The opening goal was fortunate - a very generous free kick was given against Williams and former Boro trainee Chris Brunt's innocuous shot was transformed by a deflection off Arca. Danny Coyne was stranded and the visitors led. A poor start but there was still hope the home side, emboldened by a perceived injustice, would carry the fight to the league leaders.

In fact things got much worse. The second goal could not be blamed on the referee as Brunt exposed some abysmal defending. A simple ball over the top almost sent Luke Moore free and, although Coyne managed to get the ball first, the keeper could only shank his clearance straight to Brunt, who returned it with interest into the gaping net. An awful half was ended with a third goal, Albion toying with a ragged defence before Mulumbu met Dorrans' cross with a superb, looping header.

West Brom took their foot off the pedal after the break, sparing Boro an even greater humbling. There were still two more goals as Roman Bednar and Jerome Thomas exposed more feckless, powderpuff defending to beat the helpless Coyne.

Its hard to pick out the worst players after such a performance but I'll try anyway. With due credit to Mark Yeates, who displayed an almost comic inability to pass to his team-mates, the finger has to be pointed at Tony McMahon. With little assistance from the hapless Yeates, McMahon was tormented by the visitors. By the end of the game, he was struggling to get within five yards of his man. And even by his own low standards, McMahon's distribution was appalling.

The rest of the team ranged from the inept to the anonymous. Jon Grounds had a torrid afternoon on the opposite flank while the old problems in midfield returned. Julio Arca was given a chasing, substituted before he was sent off while Rhys Williams was emasculated by an early booking. Given this total absence of protection, the fledgling centre back pairing of Wheater and St Ledger could be given limited sympathy.

Quite where we go from here is unclear. There's a good chance Danny Coyne will carry the can, with Southgate favourite Brad Jones fit again. While Coyne could only be faulted for one goal, such a move, while understandable, shouldn't negate changes in the real problem areas - full-back and centre midfield.

Ground has done well enough to be given another chance but surely the time for McMahon to be dropped has arrived. Yesterday was by the far the worst of three shaky performances in the space of a week. Justin Hoyte may not be the most appealing alternative but he must at least be given a chance.

Midfield remains a mess, with Gary O'Neil sorely missed. Williams looked every inch a makeshift solution against Albion's assured passing while Arca fared little better. After a couple of promising displays, Arca was miles off the pace, reverting to the dismal form of the past two seasons. And while the goals scored column might ward off strident criticism of the attack, you have to wonder what role the clumsy Caleb Folan has in it.

The biggest questions have to be asked of the manager. How on earth could Boro get such a big game so horribly wrong? Having been unable to instil confidence last season, the suspicion is that Southgate allowed confidence after some encouraging but hardly earth-shattering results to turn into complacency. It is of course naive to expect a team not to have bad days and be well beaten from time to time over a 46 game season.

Even so, the manner of yesterday's defeat was shocking. It was the very worst of a series of witless, spineless performances that have occurred far too often under Southgate. It was another gruesome sequel to the horrors of C-A-R-D-I-F-F. There was no fight nor any sign that the players were still battling for any semblance of pride even when the game was lost. West Brom could have scored as many as they want.

Not for the first time, Boro have crushed the fragile shoots of optimism amongst the fans. Its further evidence for the lunatic fringe amongst the fanbase and further justification for the ex-season ticket holders. This wasn't just any defeat, it was a loss that has knocked thousands off the gate for months to come. The manager has no choice but to try to pick his team up again. How many more times he will be allowed to take us to these depths, you can only wonder.